Guarantee safe feedstock purification processes
Safe feedstock purification processes prevent accidents, loss of containment and damaged pipes.
How do you guarantee a safe regeneration process?
Sieving and drying feed stock is necessary to avoid damage to your chemical manufacturing equipment. Poisons are removed from the feedstock, and a desiccant is used to dry the feed stock. A sieve is commonly used to filter out the material. When saturated with moisture, the desiccant must be regenerated. The sieve is also cleaned during the regeneration process. The process of regeneration is extremely dangerous, and it is critical that a correct line-up of valves is achieved before starting the regeneration process. Unfortunately, there are many accidents tied to this procedure…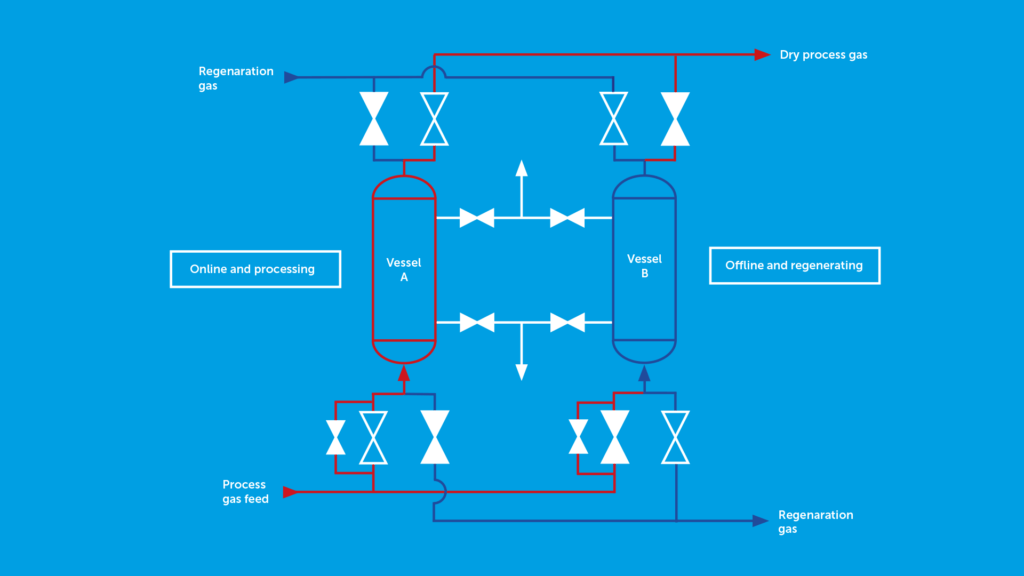 How do you guarantee a safe regeneration process?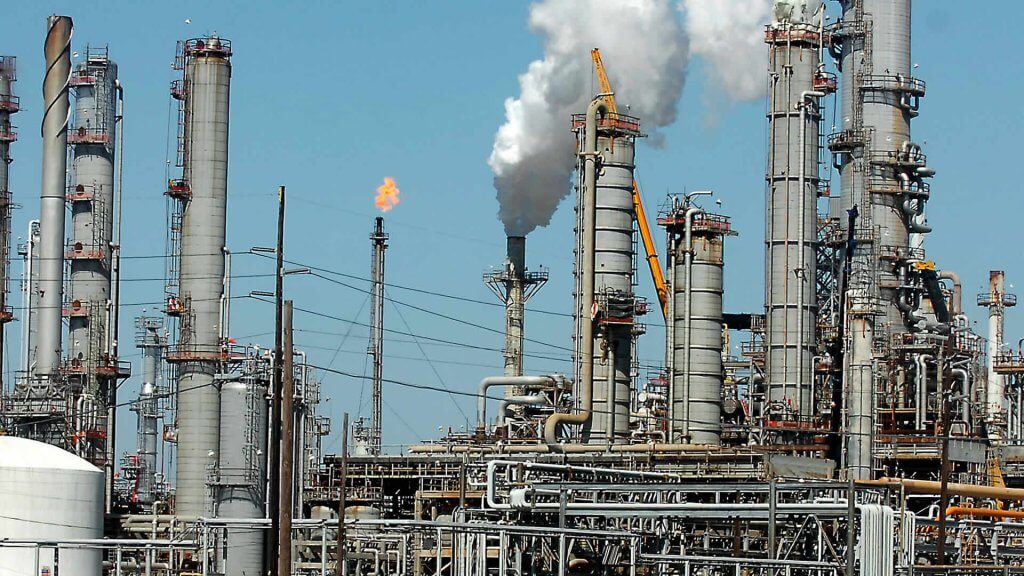 Dangers associated with purifying and drying feedstock
Your isolation valves are typically operated manually. Manual operations are prone to human error leading to loss of containment, which can happen in three ways:
Ethylene decomposition
If there are errors in the line-up of valves, regeneration gas can mix with the feed gas, causing the ethylene to decompose. This will result in significant damage to the plant and can lead to the loss of life.
Loss of containment during switchover processes
When using line blinds to guarantee closed position of your valves there is an inherent risk to loss of containment (leaks). This has to be accounted for procedurally, with additional layers of personal protection equipment.
Overpressure in piping
If high pressure process flow is allowed into lower rated nitrogen/regen lines, this piping can be damaged. Damaged piping can be the root cause
for fires and explosions.
What are the common solutions for these scenarios currently?
There are two ways these dangers are mitigated by the industry today.
Administrative controls
This is not a fail-safe solution and is very cumbersome. There is no physical barrier to prevent mistakes. Administrative controls do not
eliminate human error.
Line blinds
Line blinds are often used to reduce risks during a change over. However, line blinds are extremely labor intensive, and can be costly when third
parties are hired to implement. Personnel must take extra precautions during a line blind operation, as there is a high potential for loss of containment and thus exposure to dangerous process gases. Extra permits, supervisors, and personal protection equipment have to be taken into account.
Sequence control of manual valves
Sofis offers you a better way to guarantee safe regeneration processes, by providing sequence control for manual valves. Without the need to actuate these valves. Our products confirm the position of a valve before the operator can proceed to the next step of a sequence. They also inform the operator what the next step will be.
Sofis allows you to guarantee safe regeneration processes in many ways:
Guide operators through manual valve sequences
Confirm operating steps
Either inform or prevent operators when they are not operating the valves in the right sequence.
Provide visual indication of valve positions
Authorize access control to qualified or designated operators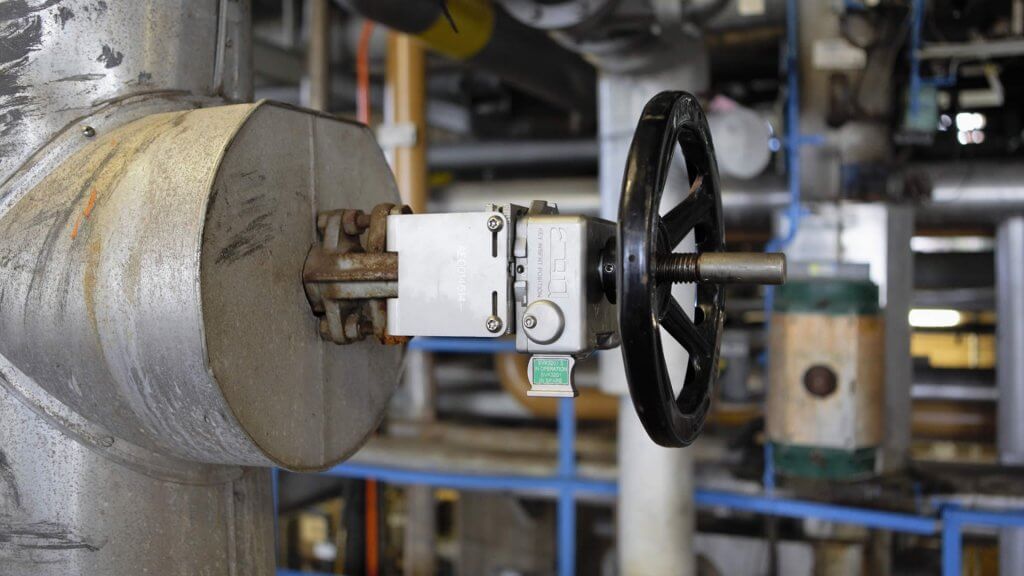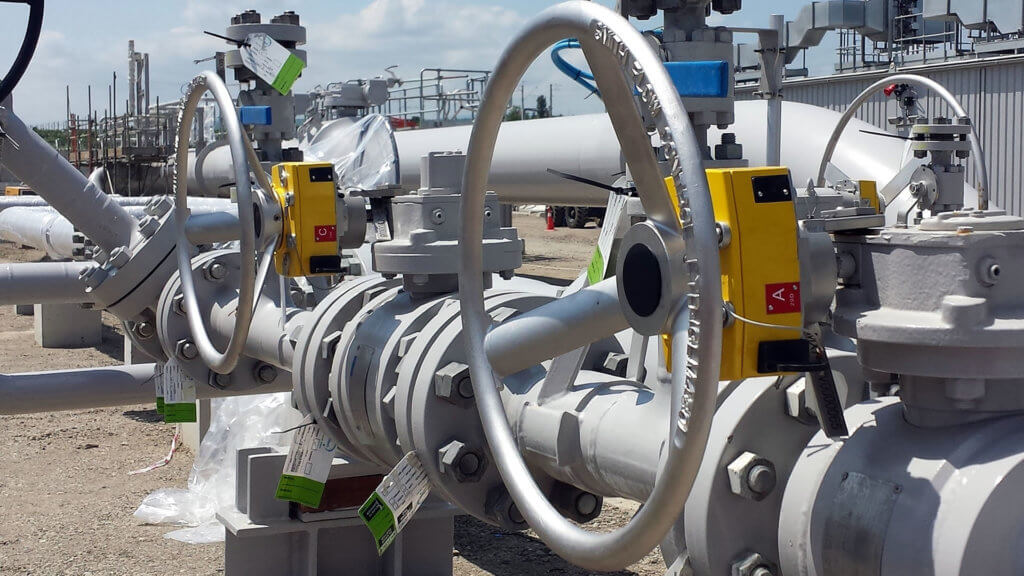 Saving life and costs at the same time
When using line blinds, often a third party is involved. Companies can spend up to hundreds of thousands of dollars yearly for third parties to operate the line blinds. Sofis solutions eliminate this.
Create a physical barrier and provide administrative controls
In the industry, companies re-evalute their processes periodically during risk assessment sessions, to continuously comply to the safety standards of governing entities. In risks assessment exercises such as HAZOPs, PHA's and LOPA, the risks per scenario can be reduced by either avoiding or mitigating the risk, to an acceptable level. As Sofis products create a physical barrier and provide administrative controls, the risk reduction can be awarded two points. Sofis offers sequence control for manual valves without the need to actuate these valves.
Do you want to know how to guarantee safe feedstock purification processes?
We have extensive application knowledge and over 30 years of experience and project management skills. Our global team of engineers is available to assist with interlock sequence design and develop customized process safety solutions.
Contact us